I'm reading a great book on ministry with children right now called Children Matter by Scottie May, Beth Posterski, Catherine Stonehouse, and Linda Cannell (Grand Rapids: Eerdman's, 2005).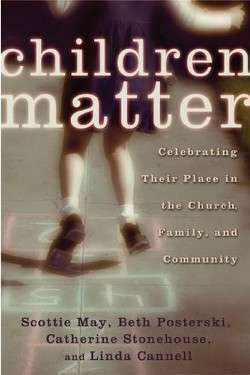 Here is a quote that made me stop in my tracks:
"Our responsibility is to create an environment in which the child can learn about and enter into God's story, respond to the Holy Spirit, and experience the presence and leading of God" (Children Matter, p. 34).
Read that again. This is super important for Children's Pastors/Ministers/Leaders. Notice that is does not say that we are the ones with all the knowledge to pass down to the children. We are not the ones with all the answers and the ability to make a child's faith grow.
Our job is to make space for God to do what He does.
Our job is to point towards God.
Our job is to walk together in faith with these kids, set the stage for God's works of grace, and get out of the way.
Jesus himself commands us not to "hinder" the children, but instead to simply let them come to Him (Matt 19:14).
I know this sounds abstract, so I will give one practical example to explain what I mean by this. One thing that I have found to be a perfect way to "make space" for kids to encounter God organically is something called Worship Response Stations. These are tactile, exploratory stations that give kids opportunities to connect with God in creative ways after a music and teaching time in worship.
I have an entire other post about Worship Response Stations that you can read here.
What are some ways that you as a leader make space for kids to encounter God?