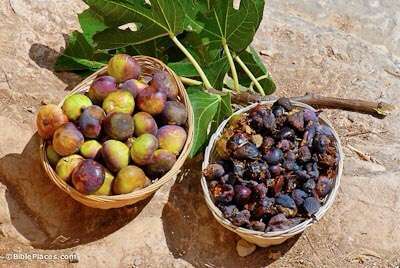 I use a lot of props, tricks, and audience participation to teach kids about the Bible. Sometimes I wonder if I am just getting a kick out of doing fun things and somehow blurring the real message that needs to be taught. That fear can potentially lead me to want to ditch props altogether with the view that good verbal teaching needs no visual assistance.
But then I saw something amazing in the book of Jeremiah (and this happens many other times in Scripture too). Here's what I read:
After Jehoiachin son of Jehoiakim king of Judah and the officials, the skilled workers and the artisans of Judah were carried into exile from Jerusalem to Babylon by Nebuchadnezzar king of Babylon, the Lord showed me two baskets of figs placed in front of the temple of the Lord. One basket had very good figs, like those that ripen early; the other basket had very bad figs, so bad they could not be eaten. Then the Lord asked me, "What do you see, Jeremiah?" "Figs," I answered. "The good ones are very good, but the bad ones are so bad they cannot be eaten." Then the word of the Lord came to me: (‭Jeremiah‬ ‭24‬:‭1-4‬ NIV)
Jeremiah goes on to report that God had told him that the good figs represented the exiles of Judah who would be redeemed and the bad figs represented Judah's king, his officials, and "the survivors from Jerusalem" (v. 8), who would conversely be judged.
Do you see what God did? God USED PROPS to get his message across to Jeremiah. How comforting! If God Himself uses object lessons and visual metaphors, then how much more should we be using them in our teaching to kids and adults both.
Like I already said, this happens all over the place, such as again in Jeremiah 18 when God tells Jeremiah to go to the potter's house and observe a potter at work while he teaches Jeremiah about His sovereignty. Jesus used coins, fish, and sand art to make his points. And Ezekiel swallowed a scroll – a real scroll (Ezekiel 3).
So let's use props, parables, and stunts to our heart's delight, so long as they meet a few stipulations (which I have learned from experience):
1. The message comes first. So don't force a message into a prop. If anything, force a prop into a message.
2. Use props and metaphors that are familiar to your audience. Otherwise, they won't make the connection you're trying to teach. Don't use an 8-track as a prop in a sermon illustration with elementary kids (unless you take some time to explain to them what it is in the first place).
3. Get feedback on your illustrations. Ask the kids as well as the adults in the group if they understood the connections you made in your presentation. This could be done formally or informally as you're talking with them afterwards at any point. Tweak future presentations and always seek to improve the art of conveying messages through props.