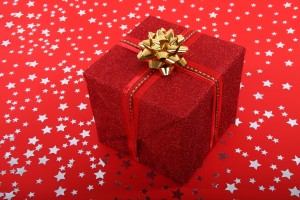 Grace.
I often ask groups of children when I teach them, "Will you go to heaven if you're a good kid?"  And I usually get the same resounding "yes!" from the crowd.
Many adults in the Church would answer the same way.
This is a big problem in the Church today, and it starts in Children's Church.  We are inadvertently (or sometimes directly) teaching kids and adults that good people go to heaven and bad people go to hell.
That's the prevailing view around the world among both religious and non-religious people – that religious people think they're saved by living a good life.
That's a Santa Claus theology.  That's legalism.  That's religiosity.  And that's heresy.
God is not Santa Claus.  He is God.  And He saves people by His grace alone (an undeserved gift).  If we could save ourselves by being good, then why did Jesus die on the cross?  If we could save ourselves by being good, then we would boast about it, returning again to being bad (Ephesians 2:8).
Grace comes to us through faith on our part.  Sound too easy?  It's not.  It costs a ton – the suffering and death of God's only Son, Jesus Christ, to be precise.  So there's nothing easy about it, especially because Jesus requires His followers to come and die with Him.
But we don't suffer in order to be saved.  We die to ourselves because we are saved.  That's a BIG difference.  Even the good deeds we perform are not of us, but rather Christ in us (Galatians 2:20).
Grace really is amazing.