Do you wonder if my show is good for your venue? Just look at the map below and I hope that helps you see that many people have enjoyed my show far and wide. This page lists and maps out many of my show venues since 1996. Click on the map to zoom in and find individual venue locations.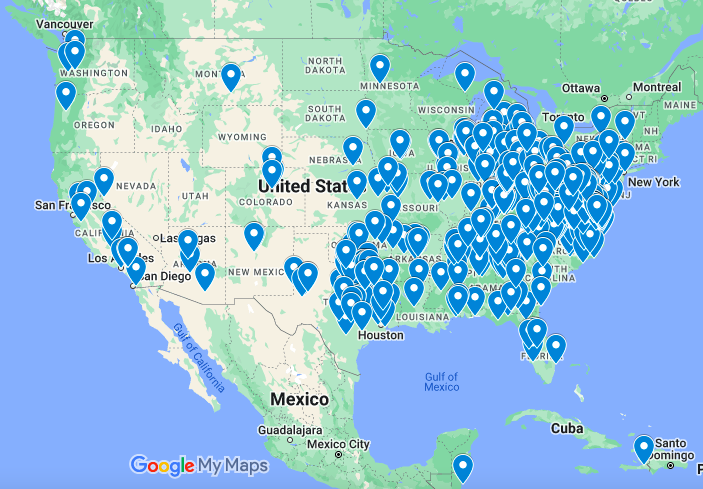 I hope this helps show you where I've been before with my show. Keep in mind that leadership may have changed at some of these locations so the current people in charge may not be the ones who originally booked me.
I have made return visits to many of these venues as well. It has been a privilege to see many corners of the USA as well as travel to different parts of the globe with my juggling show. This chart is alphabetized by state/country and then by city name.
| | | |
| --- | --- | --- |
| City | State | Venue |
| Athens | AL | Bethlehem Baptist Church |
| Birmingham | AL | Church at Chelsea Westover |
| Birmingham | AL | Shades Mountain Church |
| Tirana | Albania | VPlanters |
| Cabot | AR | First Baptist Church |
| Conway | AR | Second Baptist Church of Conway Beast Feast |
| Danville | AR | First Baptist Church |
| Fort Smith | AR | FBC Fort Smith |
| Little Rock | AR | Agape Church |
| Little Rock | AR | Geyer Springs FBC Upward |
| North Little Rock | AR | First Assembly of God |
| Glendale | AZ | The Church at Arrowhead |
| Prescott | AZ | Heights Church |
| Tuscon | AZ | Northminster Presbyterian |
| Dangriga | Belize | Mission Trip |
| Red Bank | Belize | Mission Trip |
| Bakersfield | CA | Bakersfield First Assembly of God |
| Bonita | CA | Bonita Valley Community Church |
| Concord | CA | Life Church East Bay |
| Lodi | CA | Lodi FBC Upward |
| Los Angeles | CA | World Impact LA |
| Porterville | CA | Porterville Church of the Nazarene |
| San Jose | CA | San Jose Community Church |
| West Covina | CA | Faith Community Church |
| Englewood | CO | Cherry Creek Presbyterian AWANA |
| Fort Collins | CO | Redeemer Lutheran Church |
| Littleton | CO | Mission Hills Church |
| Washington | DC | Washington Mystics |
| Washington | DC | International Ethiopian Evangelical Church |
| Bear | DE | Red Lion Christian Academy |
| Laurel | DE | Laurel Wesleyan Church |
| Lake City | FL | Christ Central Church |
| Lakeland | FL | Central Florida Nazarene District Camp |
| Lakeland | FL | Highland Park Church of the Nazarene |
| Lakeland | FL | Victory Church Easter Services |
| Orlando | FL | National Bible Bee |
| Pensacola | FL | East Brent Baptist Upward |
| Punta Gorda | FL | First United Methodist Church |
| Tallahassee | FL | First Church of the Nazarene Upward |
| Tampa | FL | Davis Islands Baptist Church |
| West Palm Beach | FL | United Methodist Church of the Palm Beaches |
| Wewahitchka | FL | First Baptist Church |
| Winter Haven | FL | First Church of the Nazarene |
| Acworth | GA | Wildwood Baptist Church |
| Cumming | GA | First Redeemer |
| Douglasville | GA | Central Baptist Church Upward |
| Douglasville | GA | Douglasville FBC |
| Franklin | GA | Glenloch Baptist |
| Hahira | GA | Hahira UMC |
| Helen | GA | Prince Avenue Baptist Church |
| Lawrenceville | GA | North Metro FBC |
| Luthersville | GA | West Rome Baptist at Camp Meriweather |
| Macon | GA | Ingleside Baptist Church |
| Marietta | GA | Eastside Baptist Upward |
| Marietta | GA | Johnson's Ferry Upward |
| Marietta | GA | Roswell St Baptist Church |
| McDonough | GA | Salem Baptist Upward |
| Norcross | GA | Norcross First United Methodist Church Upward |
| Rome | GA | West Rome Baptist |
| Springfield | GA | Springfield UMC |
| St. Simon's Island | GA | KidzQuest at Epworth by the Sea |
| Thomasville | GA | Thomasville First UMC |
| Trenton | GA | Wall Highway Baptist Kid's Camp |
| Warner Robins | GA | Second Baptist of Warner Robins Upward |
| Port-au-Prince | Haiti | Mission Trip |
| Bettendorf | IA | Bettendorf Christian |
| Norwalk | IA | Fellowship Community Church |
| West Des Moines | IA | Valley Church |
| Arlington Heights | IL | Arlington Countryside Church |
| Athens | IL | Athens Christian Church |
| Aurora | IL | Youth League Baseball Ministry |
| Deerfield | IL | Onnuri Korean Church |
| East Moline | IL | Wildwood Baptist |
| Ingleside | IL | Camp Hickory |
| Lake Forest | IL | Christ Church Lake Forest |
| Peoria | IL | Camp Good News |
| Peoria | IL | Camp of Champions |
| Prospect Heights | IL | Hebron Presbyterian Church |
| Springfield | IL | Child Evangelism Fellowship at the Illinois State Fair |
| Troy | IL | United Methodist Church Upward |
| Vandalia | IL | Crown Point Church |
| Wheeling | IL | Our Saviour Evangelical Free Church |
| Alexandria | IN | Alexandria Christian Congregational Church |
| Columbia City | IN | Columbia City First Church of God |
| Crawfordsville | IN | Crossroads Fellowship |
| DeMotte | IN | American Reformed Church |
| DeMotte | IN | Calvary Assembly of God |
| Dunkirk | IN | FBC Dunkirk |
| Eaton | IN | Eaton First Church of God |
| Evansville | IN | North Park Baptist Upward |
| Fairmount | IN | Campus Life at Madison-Grant High School |
| Fort Wayne | IN | Blackhawk Ministries |
| Fort Wayne | IN | First Missionary Church |
| Fort Wayne | IN | Keystone Schools |
| Fort Wayne | IN | Lifeway Wesleyan Chuch |
| Fort Wayne | IN | The Chapel |
| Fort Wayne | IN | Weisser Park Arts Magnet School |
| Fowlerton | IN | Fowlerton Lion's Club |
| Fowlerton | IN | Fowlerton United Methodist Church |
| Gas City | IN | Center Chapel United Methodist |
| Gas City | IN | First Baptist Church Gas City |
| Gas City | IN | Lighthouse Assembly of God |
| Gas City | IN | New Hope Baptist Church |
| Gas City | IN | The King's Academy |
| Gas City | IN | Union Chapel Baptist Church |
| Gaston | IN | Oak Chapel Church |
| Gaston | IN | Prairie Grove Church |
| Harford City | IN | Grace Methodist Church |
| Hartford City | IN | Christian Evangelism Fellowship |
| Hartford City | IN | First Presbyterian Church |
| Hartford City | IN | Pleasant Grove UMC |
| Huntertown | IN | Huntertown United Methodist Church |
| Indianapolis | IN | Crossroads Church |
| Jonesboro | IN | Jonesboro Elementary School |
| Jonesboro | IN | Jonesboro Friends Church |
| Jonesboro | IN | Westview Wesleyan Church |
| Kokomo | IN | First Church of God Upward |
| Lucerne | IN | Matea Baptist |
| Marion | IN | 8th Street Wesleyan Church |
| Marion | IN | Boys and Girls Club |
| Marion | IN | College Church of Marion |
| Marion | IN | Colonial Oaks Independent Living |
| Marion | IN | Converse Church of Christ |
| Marion | IN | Countryside Chapel |
| Marion | IN | Fellowship of Christian Magicians Conference |
| Marion | IN | First Alliance Church |
| Marion | IN | First Methodist Church |
| Marion | IN | Good News Club |
| Marion | IN | Good Shepherd Preschool |
| Marion | IN | Hanfield UMC |
| Marion | IN | Private Home Party |
| Marion | IN | Hostess House |
| Marion | IN | Indiana Wesleyan University Youth Conference |
| Marion | IN | Lakeview Wesleyan Church |
| Marion | IN | Marion County Detention Center |
| Marion | IN | Marion First Church of God |
| Marion | IN | Marion Youth for Christ |
| Marion | IN | Mount Olive Methodist Church |
| Marion | IN | Park Lynn Church of the Nazarene |
| Marion | IN | South Marion Friends Church |
| Marion | IN | Sunny Crest Baptist Church |
| Marion | IN | Wesleyan Heights Nursing Home |
| Matthews | IN | Epworth United Methodist Church |
| Muncie | IN | Muncie First Presbyterian Church |
| Muncie | IN | New Life Presbyterian |
| Muncie | IN | Westminster Presbyterian |
| Summitville | IN | Summitville Methodist |
| Sweetser | IN | Liberty Baptist Church |
| Sweetser | IN | Sweetser Baptist Church |
| Tipton | IN | Miller's Merry Manor |
| Upland | IN | Red Barn |
| Upland | IN | Taylor University |
| Upland | IN | Upland Community Church |
| Upland | IN | Upland EMC |
| Upland | IN | Upland United Methodist Church |
| Wabash | IN | Wabash Friends Church |
| Whitestown | IN | Eagle Church Upward |
| Jerusalem | Israel | Ben Yehuda Street |
| Jerusalem | Israel | The Jerusalem American School |
| Leavenworth | KS | St. Paul's Church |
| Salina | KS | First Covenant Church |
| Topeka | KS | Town and Country Church |
| Bergin | KY | RISE Program |
| Burlington | KY | Burlington Baptist Church |
| Cynthiana | KY | High School Event |
| Glasgow | KY | Calvary Baptist Church |
| Lakeside Park | KY | Immanuel UMC Upward |
| Latonia | KY | Latonia Christian Church |
| Lexington | KY | Amachi Recognition Banquet |
| Lexington | KY | Boys and Girls Club |
| Lexington | KY | Children's Ministry at Lexington Vineyard |
| Lexington | KY | Consolidated Baptist Upward |
| Lexington | KY | First Alliance Church |
| Lexington | KY | IJA World Joggling Championships |
| Lexington | KY | Lexington Christian Academy Elementary School |
| Lexington | KY | Lexington Christian Academy Middle School |
| Lexington | KY | Lexington Country Place |
| Lexington | KY | Lexington Korean Church |
| Lexington | KY | Liberty Worship Center |
| Lexington | KY | Lifebridge Church |
| Lexington | KY | Open Door Baptist Church |
| Lexington | KY | Porter Memorial Baptist Church |
| Lexington | KY | Southern Hills United Methodist Church |
| Lexington | KY | The Arbors at Richmond Place |
| Lexington | KY | Trinity Baptist Church |
| Lexington | KY | Vineyard Community Church |
| Louisville | KY | Crestwood Baptist Upward |
| Louisville | KY | Upward Conference |
| Midway | KY | Forks of Elkhorn Baptist Church |
| Mt. Sterling | KY | Gateway Christian Upward |
| Nicholasville | KY | First Assembly of God |
| Nicholasville | KY | Jessamine Early Learning Village |
| Nicholasville | KY | Nicholasville United Methodist Church |
| Nicholasville | KY | Relay 4 Life |
| Nicholasville | KY | Trinity Church |
| Somerset | KY | Big Brother/Big Sister |
| Stopover | KY | Shepherd Memorial Presbyterian Church |
| Wilmore | KY | Great Commission Fellowship |
| Wilmore | KY | Titus Women's Group |
| Wilmore | KY | Wesleyan Foundation |
| Wilmore | KY | Wilmore Presbyterian Church |
| Wilmore | KY | Wilmore United Methodist Church |
| Wilmore | KY | World Gospel Mission |
| Monroe | LA | First United Methodist Church |
| Woodworth | LA | Tall Timbers Baptist Conference |
| Baltimore | MD | Highland Community Church |
| Bel Air | MD | Grace Assembly of God |
| Bowie | MD | Cornerstone Assembly of God |
| Clinton | MD | Grace Brethren Christian School |
| College Park | MD | Congress of Jugglers Convention, University of Maryland |
| Colora | MD | Rising Sun Church of the Nazarene |
| Frederick | MD | Trinity UMC |
| Glen Burnie | MD | Faith Baptist Church Upward |
| Greenbelt | MD | Love Foundation |
| Jessup | MD | Bethel Assembly of God |
| La Plata | MD | First Baptist Church Upward |
| Laurel | MD | FBC Laurel Upward |
| North East | MD | Sandy Cove Ministries |
| Ocean City | MD | Ocean City Baptist Upward |
| Pasadena | MD | Pasadena Assembly of God |
| Rockville | MD | McLean Bible Church |
| Salisbury | MD | Emmanuel Wesleyan Church |
| Severna Park | MD | Woods Memorial Presbyterian Church |
| Alma | MI | Alma First Church of God |
| Auburn Hills | MI | Oakland Christian School |
| Byron Center | MI | Banner of Christ Community Church |
| Byron Center | MI | Buist Electric |
| Canton | MI | Crosswinds Church |
| Clinton Township | MI | Trinity Lutheran Upward |
| Coldwater | MI | Coldwater Church of the Nazarene |
| Iron Mountain | MI | Dickinson County Library |
| Kentwood | MI | Kentwood Community Church Upward |
| Milan | MI | Milan Free Methodist Church |
| Millington | MI | Millington Church of God |
| Portage | MI | Lake Center Bible Church |
| Southfield | MI | Southfield Christian School |
| St. Joseph | MI | The Chapel |
| Traverse City | MI | East Bay Calvary |
| Washington | MI | Stoney Creek Community Church |
| Henning | MN | Lutheran Island Camp and Retreat Center |
| Carl Junction | MO | Fir Road Christian Church |
| Columbia | MO | Child Evangelism Fellowship World Headquarters |
| Odessa | MO | First Assembly of God |
| Rayville | MO | Rayville Christian Union |
| St. Joseph | MO | Green Valley Baptist Upward |
| St. Louis | MO | Covenant Seminary |
| Amory | MS | Meadowood Baptist Upward |
| Booneville | MS | FUMC Booneville Upward |
| Corinth | MS | Oakland Baptist Church |
| Jackson | MS | Jackson First Baptist Church |
| Long Beach | MS | Katrina Relief |
| Macon | MS | Lake Forest Ranch |
| Meridian | MS | NorthPark Church Upward |
| Moss Point | MS | Wade Baptist |
| New Albany | MS | Hillcrest Baptist Church |
| Pontotoc | MS | West Heights Baptist Upward |
| Ripley | MS | FBC Ripley Upward |
| Saltillo | MS | FBC Saltillo Upward |
| Vancleave | MS | First Baptist Church Vancleave Upward |
| Billings | MT | Freedom Church |
| Coats | NC | Coats Baptist Church |
| Concord | NC | Parkwood Baptist Churh |
| Concord | NC | Pitts Baptist Church |
| Connelly Springs | NC | South Mountain Baptist Camp |
| Cornelius | NC | Grace Covenant Church |
| Corolla | NC | Currituck County Independence Day Celebration |
| Elizabth City | NC | Corinth Baptist |
| Fayetteville | NC | Camp Dixie |
| Fayettville | NC | Village Baptist Church |
| Garner | NC | Raleigh First Nazarene Church Upward |
| Gastonia | NC | Parkwood Baptist Church |
| Goldsboro | NC | First Church |
| Greensboro | NC | Calvary Church |
| Greensboro | NC | International Conference for Church of God of Prophecy |
| Hampstead | NC | Hampstead United Methodist Church Upward |
| Hickory | NC | South Mountain Baptist Camp |
| High Point | NC | Community Bible Church |
| High Point | NC | Crossover Community Church |
| Kernersville | NC | Triad Baptist Upward |
| Kinston | NC | First Pentecostal Upward |
| Lake Junaluska | NC | Family Camp for Concord Baptist Church |
| Lexington | NC | Lexington District UMC Camp |
| Morehead City | NC | Morehead FBC Upward |
| New Bern | NC | Temple Church |
| Roanoke Rapids | NC | Calvary Baptist Church |
| Tuckaseegee | NC | Private Wedding |
| Hordeville | NE | Covenant Cedars Camp |
| Clinton | NJ | Southridge Community Church |
| Lawrenceville | NJ | Seventh Day Adventist |
| Marlton | NJ | Marlton Assembly of God |
| Parsippany | NJ | Chinese Christian Church |
| Albuquerque | NM | Baptist Convention of New Mexico |
| Albuquerque | NM | Calvary Church Fall Festival |
| Hobbs | NM | Taylor Memorial |
| Minden | NV | LifePoint Church |
| Brooklyn | NY | Brooklyn Tabernacle |
| North Syracuse | NY | North Syracuse Baptist Church |
| Scotia | NY | Mekeel Christian Academy |
| Albany | OH | Albany Baptist Church AWANA |
| Bellefontaine | OH | Camp Cotubic |
| Bellefontaine | OH | Lima Community Church |
| Bryan | OH | Bryan Church of the Nazarene |
| Canal Fulton | OH | Alive '07 Christian Music Festival |
| Cedarville | OH | Junior Jam |
| Cincinnati | OH | Northern Cincinnati Upward Flag Football |
| Cincinnati | OH | Springdale Nazarene Upward |
| Cincinnati | OH | Vineyard Community Church |
| Circleville | OH | Circleville Nazarene Upward |
| Cleveland Heights | OH | Church of the Savior Upward |
| Fremont | OH | Grace Community Upward |
| Gahanna | OH | Shepherd Church of the Nazarene |
| Hilliard | OH | Northwest Bible Church |
| Jackson | OH | Jackson First Baptist Church |
| Kettering | OH | Kettering Seventh Day Adventist |
| Lebanon | OH | Lebanon Presbyterian |
| Mason | OH | Paramount's King's Island |
| Pataskala | OH | Pataskala Church of the Nazarene Upward |
| Perrsville | OH | Pleasant Valley Ranch |
| Piqua | OH | The Salvation Army |
| Toledo | OH | Cornerstone Church of God |
| Upper Sandusky | OH | Trinity Evangelical UMC Upward |
| Warsaw | OH | Perry Chapel Upward |
| West Chester | OH | Private Birthday Party |
| Westville | OH | Renewed Strength Church |
| Wheelersburg | OH | Scioto Hills Camp and Retreat Center |
| Wooster | OH | North Central Nazarene District Quizzing |
| Wooster | OH | Wooster Church of the Nazarene |
| Youngstown | OH | Crossroads Church VBS |
| Zanesville | OH | CMA Community Festival |
| Comanche | OK | Ray of Hope |
| Muscogee | OK | First Baptist Church |
| Newcastle | OK | First Baptist Church Upward |
| Norman | OK | Crosspointe Church |
| Tulsa | OK | Victory Christian Center |
| Leamington | Ontario | Meadowbrook Fellowship |
| Albany | OR | Albany First Assembly |
| Adamstown | PA | Weaver Markets Banquet |
| Berwick | PA | Tenth St School |
| Boalsburg | PA | Calvary Baptist |
| Camp Hill | PA | Christian Life Assembly |
| Carlisle | PA | Bethel Assembly of God |
| Chambersburg | PA | Brethren Fellowship Upward |
| Chambersburg | PA | Chambersburg FCOG |
| Chambersburg | PA | Mt. Pleasant Church |
| Chambersburg | PA | Salvation Army |
| Dallas | PA | Camp Orchard Hill |
| Denver | PA | Cocalico Community |
| Eagleville | PA | Fairview Village Church of the Nazarene |
| Ellwood City | PA | The Salvation Army |
| Elysburg | PA | Knoebels Amusement Park |
| Glen Rock | PA | Glenview Alliance Church |
| Hummelstown | PA | Evangelical Free Church of Hershey |
| Lancaster | PA | Lancaster UMC Upward |
| Lewistown | PA | Pine Glen Alliance |
| Mars | PA | Mars Alliance Church |
| McMurray | PA | Bible Chapel |
| Mechanicsburg | PA | Capital Area Christian |
| Mechanicsburg | PA | West Shore Evangelical Free Church |
| Media | PA | Middletown Presbyterian Upward |
| Mount Joy | PA | Florin Church of the Brethren |
| Murrysville | PA | Cornerstone Ministries |
| New Wilmington | PA | New Life Baptist Church |
| Pittsburgh | PA | Allegheny Center Alliance |
| Shavertown | PA | Shavertown UMC |
| Somerset | PA | First Christian Church |
| State College | PA | Calvary Baptist Church |
| Sunbury | PA | Emmanuel Bible Fellowship Upward |
| Waymart | PA | Salvation Army Camp |
| Bethlehem | Palestine | Jerusalem School Bethlehem |
| Anderson | SC | Concord Baptist Upward |
| Great Falls | SC | Evangel Temple Assembly of God |
| Leesville | SC | Bethlehem Lutheran |
| Sioux Falls | SD | Central Baptist Church |
| Chattanooga | TN | Signal Crest United Methodist Church |
| Kingsport | TN | Colonial Heights Christian Church |
| Lebanon | TN | The Bridge Fellowship |
| Linden | TN | Camp O-REE |
| Maryville | TN | Fairview United Methodist Church |
| Nashville | TN | Hermitage Hills Baptist Church Upward |
| Aquilla | TX | F.I.R.M. Baptist Area Camp |
| Aquilla | TX | Latham Springs AIM Camp |
| Aquilla | TX | Next Level Kids Camp |
| Aquilla | TX | Trinity Brazos District Camp |
| Arlington | TX | Fielder Road Baptist Church |
| Belton | TX | Belton FBC Upward |
| Brownwood | TX | Heart of Texas Baptist Encampment |
| Bulverde | TX | Upward Bulverde Baptist |
| Cedar Hill | TX | For HIS Kidz Conference |
| Cedar Hill | TX | Mount Lebanon Baptist Camp |
| Clifton | TX | Clifton Elementary School |
| College Station | TX | Central Baptist Church |
| College Station | TX | Parkway Baptist |
| Colleyville | TX | Bear Valley Church |
| Conroe | TX | Oak Ridge Baptist |
| Conroe | TX | West Conroe Baptist Upward |
| Corsicana | TX | Northside Baptist |
| Covington | TX | FBC Covington |
| Dallas | TX | Oak Cliff Bible Fellowship |
| De Soto | TX | Hampton Road Baptist |
| Denison | TX | Parkside Baptist Church |
| Denton | TX | Camp Copass |
| Denton | TX | India Pentecostal Conference |
| Ennis | TX | Tabernacle Baptist Church |
| Forney | TX | FBC Forney Upward |
| Forney | TX | Fellowship Forney |
| Fort Worth | TX | Hallmark Baptist Church |
| Garland | TX | Fivestone Community |
| Gatesville | TX | Coryell Community Church |
| Gatesville | TX | FBC Gatesville |
| Georgetown | TX | Crestview Baptist |
| Glen Rose | TX | Camp Riverbend |
| Glen Rose | TX | Glenlake Retreat Center |
| Glen Rose | TX | Riverbend Camp for Lake Arlington Baptist Church |
| Graham | TX | Oak Street Baptist Church |
| Graham | TX | Open Door Christian School |
| Granbury | TX | Lakeside Baptist |
| Granbury | TX | Stonewater Church |
| Grand Prarie | TX | Crossroads Christian Church |
| Grapevine | TX | First UMC Grapevine |
| Houston | TX | The Met |
| Humble | TX | Humble Area FBC |
| Huntsville | TX | University Heights Baptist Church |
| Iowa Park | TX | Camp Chapparel |
| Irving | TX | FBC Irving |
| Jourdanton | TX | Cowboy Fellowship |
| Katy | TX | Grace Fellowship UMC |
| Kerrville | TX | FBC Kerrville |
| Lenorah | TX | Circle Six Ranch |
| Liberty Hill | TX | Fellowship Baptist |
| Livingston | TX | Camp Cho-Ye for Humble FBC |
| Livingston | TX | Lake Tomahawk Camp |
| Longview | TX | Alpine Church of Christ |
| Longview | TX | Mobberly Baptist Church |
| McKinney | TX | Crosspoint Church |
| Midland | TX | Midland FBC Upward |
| Mineral Wells | TX | FBC Mineral Wells Upward |
| Odessa | TX | Second Baptist Odessa Upward |
| Paige | TX | Ridgeway Baptist Church |
| Pasadena | TX | First Baptist Church |
| Plano | TX | Parkway Hills |
| Princeton | TX | Lake Levon |
| Rockdale | TX | Rockdale FBC |
| Round Rock | TX | FBC Round Rock Upward |
| San Saba | TX | First Baptist Church |
| Spicewood | TX | Highland Lakes Camp |
| Stanton | TX | Circle 6 Ranch |
| The Woodlands | TX | The Woodlands UMC |
| Trinity | TX | Camp Dare 2 Run |
| Waxahachie | TX | The Avenue Church |
| Waxahachie | TX | Waxahachie Preparatory Academy |
| Wichita Falls | TX | FBC Wichita Falls |
| Wills Point | TX | Stonepoint Church |
| Wimberley | TX | FBC Wimberley Upward |
| Yoakum | TX | FBC Upward |
| Alexandria | VA | Alfred Street Baptist |
| Arlington | VA | Association of Christian Schools International |
| Arlington | VA | Marine Corps Marathon |
| Arlington | VA | St. Anne Catholic School |
| Ashburn | VA | Boy Scouts Blue and Gold Banquet |
| Ashburn | VA | Community Church |
| Ashland | VA | Ashland Branch Library |
| Atkins | VA | Cedar Bluff Baptist Upward |
| Atlee | VA | Atlee Branch Library |
| Blacksburg | VA | Blacksburg UMC |
| Bristol | VA | Antioch Baptist Upward |
| Callao | VA | Bethany Baptist |
| Centreville | VA | Centreville Baptist Church |
| Centreville | VA | Centreville Presbyterian Church |
| Centreville | VA | Centreville United Methodist Church Upward |
| Centreville | VA | Korean Central Presbyterian Church |
| Chantilly | VA | Chantilly Bible Church |
| Chantilly | VA | Grace Covenant Church |
| Chantilly | VA | New Life Christian Church |
| Chantilly | VA | Samson Properties Family Day |
| Charlottesville | VA | First Night Virginia |
| Charlottesville | VA | Miller School of Albemarle |
| Charlottesville | VA | Private Birthday Party |
| Charlottesville | VA | Private Law Firm Retreat |
| Charlottesville | VA | UVA Children's Hospital |
| Chesapeake | VA | River Oak Church |
| Chester | VA | Chester Presbyterian Preschool |
| Chester | VA | The Goddard School |
| Chesterfield | VA | Chesterfield Towne Center |
| Chesterfield | VA | Cornerstone Assembly of God |
| Chesterfield | VA | House of Prayer |
| Chesterfield | VA | Manchester High School |
| Chesterfield | VA | Shady Hill Outreach with Cornerstone Assembly of God |
| Chesterfield | VA | YMCA |
| Colonial Heights | VA | Cameron Avenue Church of Christ |
| Colonial Heights | VA | Mount Pleasant Baptist Church |
| Colonial Heights | VA | The Stand Preschool |
| Colonial Heights | VA | The Stand UMC |
| Colonial Heights | VA | Wesley UMC Preschool |
| Crozier | VA | Redeemer Assembly of God |
| Crozier | VA | Salem Christian School Assembly |
| Dale City | VA | Hillendale Baptist |
| Dinwiddie | VA | Sutherland Elementary School |
| Doswell | VA | King's Dominion |
| Dumfries | VA | Pillar Church |
| East Stone Gap | VA | East Stone Gap Baptist Upward |
| Fairfax | VA | Burke Community Church |
| Fairfax | VA | Pender UMC |
| Fairfax | VA | Providence Presbyterian Upward |
| Falls Church | VA | Columbia Baptist Church |
| Falls Church | VA | Corpus Christi School |
| Fincastle | VA | Fincastle Baptist Awana |
| Fredericksburg | VA | Holiday Party |
| Fredricksburg | VA | Strong Tower Church |
| Glen Allen | VA | Child Development Center of Wyndham |
| Glen Allen | VA | Dominion Digital Family Picnic |
| Glen Allen | VA | Private Birthday Party |
| Glen Allen | VA | Promiseland Preschool |
| Glen Allen | VA | Rainbow Station |
| Glen Allen | VA | Richmond Community Church |
| Glen Allen | VA | Salem Christian School |
| Glen Allen | VA | Springfield Park Elementary School |
| Glen Allen | VA | Staples Mill Rd Baptist |
| Glen Allen | VA | The Goddard School |
| Gloucester | VA | Gloucester Women's Club |
| Gloucester Point | VA | Gloucester Point Baptist |
| Goochland | VA | Hope Church |
| Goochland | VA | Clover Hill Assembly of God Camp at Westview on the James |
| Goochland | VA | Goochland Branch Library |
| Gore | VA | Pine Creek Camp |
| Goshen | VA | Grace Bible Camp |
| Hampton | VA | Liberty Baptist Upward |
| Hampton | VA | Peninsula Town Center |
| Hanover | VA | Heritage Christian Academy |
| Hanover | VA | Pamunkey Regional Library System |
| Harrisonburg | VA | Park View Federal Credit Union |
| Henrico | VA | Grove Avenue Baptist Church |
| Henrico | VA | Henrico Soil and Water District |
| Henrico | VA | Henrico Theater |
| Henrico | VA | Honeytree Apartments |
| Henrico | VA | Lakewood West End Assisted Living |
| Henrico | VA | Maude Trevvett Elementary |
| Henrico | VA | Mills Godwin High School |
| Henrico | VA | Potomac Network of the Assemblies of God Conference |
| Henrico | VA | Private Birthday Party |
| Henrico | VA | Private Birthday Party |
| Henrico | VA | Private First Responders Party |
| Henrico | VA | Regency Square Kid's Club |
| Henrico | VA | Ridge Elementary School |
| Henrico | VA | River of Life Church |
| Henrico | VA | River of Life Community Church |
| Henrico | VA | West End Assembly of God |
| Herndon | VA | Floris UMC |
| Herndon | VA | Herndon UMC Upward |
| Herndon | VA | Open Door Presbyterian |
| Hopewell | VA | Hopewell Farmer's Market |
| Hurt | VA | New Prospect Baptist Church |
| Irvington | VA | Farmer's Market |
| King William | VA | Rehoboth Baptist |
| King William | VA | Upper King William Branch Library |
| Lignum | VA | Child Help |
| Lovettsville | VA | Lion's Den Fitness |
| Maidens | VA | Cub Adventure Camp |
| Manakin Sabot | VA | Private Birthday Party |
| Manassas | VA | Emmanuel Christian School |
| Mechanicsville | VA | Cool Spring Upward |
| Mechanicsville | VA | Friendly Day School |
| Mechanicsville | VA | Goddard School |
| Mechanicsville | VA | Resource Connection |
| Mechanicsville | VA | Mechanicsville Branch Library |
| Mechanicsville | VA | Mechanicsville Christian Center |
| Mechanicsville | VA | National Night Out Event |
| Mechanicsville | VA | Northside Baptist |
| Mechanicsville | VA | Private Birthday Party |
| Midlothian | VA | Celebration Church |
| Midlothian | VA | Clover Hill Assembly of God |
| Midlothian | VA | Crestwood Presbyterian Church |
| Midlothian | VA | KidMin Leaders Lunch at Journey Church |
| Midlothian | VA | Reams Rd Elementary School |
| Midlothian | VA | Spring Run Elementary School |
| Midlothian | VA | Swift Creek Baptist Church |
| Mineral | VA | Mineral Baptist Church Upward |
| Montpelier | VA | Monpelier Branch Library |
| Montpelier | VA | Private Birthday Party |
| Moseley | VA | Parkway Baptist Upward |
| New Kent | VA | New Kent County Fair |
| New Kent | VA | Private Birthday Party |
| New Kent | VA | New Kent High School |
| Newport News | VA | Newport News Parks and Recreation Children's Festival |
| Newport News | VA | Denbigh Baptist Christian School |
| Newport News | VA | Warwick Memorial UMC |
| Norfolk | VA | Tabernacle Church Upward |
| North Chesterfied | VA | Private Birthday Party |
| North Roanoke | VA | North Roanoke Baptist Upward |
| Occoquan | VA | Occoquan Bible |
| Orange | VA | Orange Baptist Church Upward |
| Orange | VA | Orange Downtown Alliance Spring Kids Festival |
| Petersburg | VA | Mt Pleasant Baptist at Camp Kehukee |
| Petersburg | VA | Prince George Hopewell Sunday School Union at Camp Kehukee |
| Petersburg | VA | Matoaca Baptist |
| Petersburg | VA | Private Birthday Party |
| Portsmouth | VA | Central Baptist Church Upward |
| Portsmouth | VA | Government/Military Event |
| Portsmouth | VA | Toras Chaim |
| Red Oak | VA | Antioch Baptist |
| Red Oak | VA | Cornerstone Farm |
| Reston | VA | Reston Community Church |
| Reston | VA | Verisign |
| Richmond | VA | Private Wedding Reception |
| Richmond | VA | All Soul's Presbyterian Church |
| Richmond | VA | Anna Julia Cooper School |
| Richmond | VA | Asbury United Methodist Church |
| Richmond | VA | Private Home Party |
| Richmond | VA | Bon Air Baptist |
| Richmond | VA | Calhoun Center |
| Richmond | VA | Celebrate RVA |
| Richmond | VA | Chapel Downtown |
| Richmond | VA | Chapel South Campus |
| Richmond | VA | Church Hill Boys and Girls Club |
| Richmond | VA | Blue Sky Fund |
| Richmond | VA | Clark Springs Elementary School |
| Richmond | VA | Class A Performing Arts |
| Richmond | VA | Commonwealth Assisted Living |
| Richmond | VA | Commonwealth Chapel |
| Richmond | VA | Earth Day Celebration at Great Shiplock Park |
| Richmond | VA | Eternity Church |
| Richmond | VA | Fairmount Ministry |
| Richmond | VA | First Fridays |
| Richmond | VA | First Baptist Church |
| Richmond | VA | First Presbyterian Preschool |
| Richmond | VA | Fisher Community Center |
| Richmond | VA | Private Birthday Party |
| Richmond | VA | George Mason Elementary School |
| Richmond | VA | Grace Community Baptist |
| Richmond | VA | Grove Avenue Baptist Church |
| Richmond | VA | Harvest Renewal Church |
| Richmond | VA | Highland Park Block Party |
| Richmond | VA | Hill City Church |
| Richmond | VA | Home Security Systems |
| Richmond | VA | Host of Sparrows Aerial Circus |
| Richmond | VA | Humphrey-Calder Community Center |
| Richmond | VA | Iron Bridge Baptist Upward |
| Richmond | VA | Luther Memorial School |
| Richmond | VA | Main Library |
| Richmond | VA | Maybuery Elementary School |
| Richmond | VA | Monument Heights Baptist Church |
| Richmond | VA | Munford Community Center |
| Richmond | VA | National Night Out in RVA |
| Richmond | VA | Nerd Nite RVA |
| Richmond | VA | New Generations Credit Union |
| Richmond | VA | New Life Outreach International |
| Richmond | VA | North Thompson Community Center |
| Richmond | VA | Northminster Presbyterian Church |
| Richmond | VA | Northside Outreach Center |
| Richmond | VA | Overby-Sheppard Elementary School |
| Richmond | VA | Patterson Ave Baptist Church |
| Richmond | VA | Doswell Energy Center Corporate Event |
| Richmond | VA | Plant Zero and Art180 |
| Richmond | VA | Private Birthday Party |
| Richmond | VA | Private Birthday Party |
| Richmond | VA | Private Birthday Party |
| Richmond | VA | Private Birthday Party |
| Richmond | VA | Private Birthday Party |
| Richmond | VA | Private Birthday Party |
| Richmond | VA | Private Birthday Party |
| Richmond | VA | Private Birthday Party |
| Richmond | VA | Private Birthday Party |
| Richmond | VA | Private Birthday Party |
| Richmond | VA | Providence Montessori Christian School |
| Richmond | VA | Puppets off Broad Street Winterfest |
| Richmond | VA | Richmond Country Club |
| Richmond | VA | Richmond Flying Squirrels |
| Richmond | VA | Richmond Friends Meeting |
| Richmond | VA | Richmond Times Dispatch |
| Richmond | VA | Robinson Theater |
| Richmond | VA | Rudlin Torah Academy |
| Richmond | VA | RVA Circus Arts Camp |
| Richmond | VA | SPCA Commercial |
| Richmond | VA | St. Andrews Christian School |
| Richmond | VA | St. Mary's of the Woods |
| Richmond | VA | St. Matthew's Episcopal Church |
| Richmond | VA | Stony Point Shopping Center |
| Richmond | VA | Sunrise Assisted Living |
| Richmond | VA | Chabad of Virginia |
| Richmond | VA | Tikvat Israel |
| Richmond | VA | Trinity Lutheran Church |
| Richmond | VA | Tuckahoe Presbyterian |
| Richmond | VA | Veritas School |
| Richmond | VA | Virginia Museum of Fine Arts |
| Richmond | VA | Westhampton Community Center |
| Richmond | VA | Westhampton Day School |
| Richmond | VA | Willow Oaks Country Club |
| Richmond | VA | World Horizons Banquet |
| Richmond | VA | Youth Life Foundation |
| Richmond | VA | YWAM Community Center Ministry |
| Roanoke | VA | New Hope Christian Church |
| Roanoke | VA | FBC Roanoke |
| Roanoke | VA | North Roanoke Baptist Upward |
| Roanoke | VA | South County Library |
| Rockville | VA | International Learning Center |
| Rockville | VA | Pamunkey Regional Library |
| Rocky Mount | VA | Franklin Heights Baptist Church |
| Sandston | VA | New Bridge Baptist Upward |
| Seaford | VA | Seaford Baptist Church Upward |
| Skipwith | VA | New Hope Baptist Church |
| Spotsylvania | VA | Courthouse Road Elementary |
| Spotsylvania | VA | River of Life Worship Center |
| Spottsylvania | VA | Wilderness Community Church |
| Spring Grove | VA | Camp Idlewild |
| Springfield | VA | Word of Life Assembly of God |
| St. Stephens Church | VA | King and Queen Branch Library |
| Stafford | VA | Hope Chapel Stafford |
| Stanardsville | VA | United Christian Academy |
| Sterling | VA | New Life Assembly of God |
| Suffolk | VA | First Baptist Church Upward |
| Sutherland | VA | Sutherland Elementary School |
| Syria | VA | Blue River Retreat |
| Tappahanock | VA | |
| The Plains | VA | Samson Properties Family Festival |
| Triangle | VA | Hope Chapel Stafford Retreat |
| Troy | VA | Yarnival Festival |
| Virginia Beach | VA | Fusion Camp at Great Neck Baptist Church |
| Virginia Beach | VA | Atlantic Shores Baptist Church |
| Virginia Beach | VA | Baylake United Methodist Church Upward |
| Virginia Beach | VA | Beach Street USA |
| Virginia Beach | VA | Courthouse Community UMC |
| Virginia Beach | VA | Great Neck Baptist Upward |
| Warrenton | VA | The Bridge Community |
| Waynesboro | VA | Waynesboro Parks and Recreation Family Fiesta |
| West Point | VA | West Point Branch Library |
| Williamsburg | VA | Fat Canary Restaurant |
| Williamsburg | VA | James City County Harvest Festival |
| Williamsburg | VA | Metro Conference |
| Williamsburg | VA | Potomac District of the Assemblies of God Children's Ministry Retreat |
| Williamsburg | VA | WindsorMeade Senior Center |
| Woodbridge | VA | First Baptist Woodbridge |
| Yorktown | VA | Crossroads Community Church Upward |
| Edmonds | WA | Westgate Chapel |
| Olympia | WA | Westwood Baptist |
| Puyallup | WA | Lighthouse Christian Center |
| Beckley | WV | Memorial Baptist Upward |
| Charles Town | WV | Oakland United Methodist Church |
| Charleston | WV | Mt Calvary Baptist |
| Elk View | WV | Elk View Baptist Church Upward |
| Fairmount | WV | Trinity Assembly of God |
| Hico | WV | Lighthouse Worship Center |
| Morgantown | WV | Living for Christ Conference |
| Parkersburg | WV | South Parkersburg Baptist Church |
| Princeton | WV | First UMC |
| South Parkersburg | WV | South Parkersburg Baptist Church |
| Wardensville | WV | Faith Mission Church |
| White Hall | WV | Trinity Assembly of God |