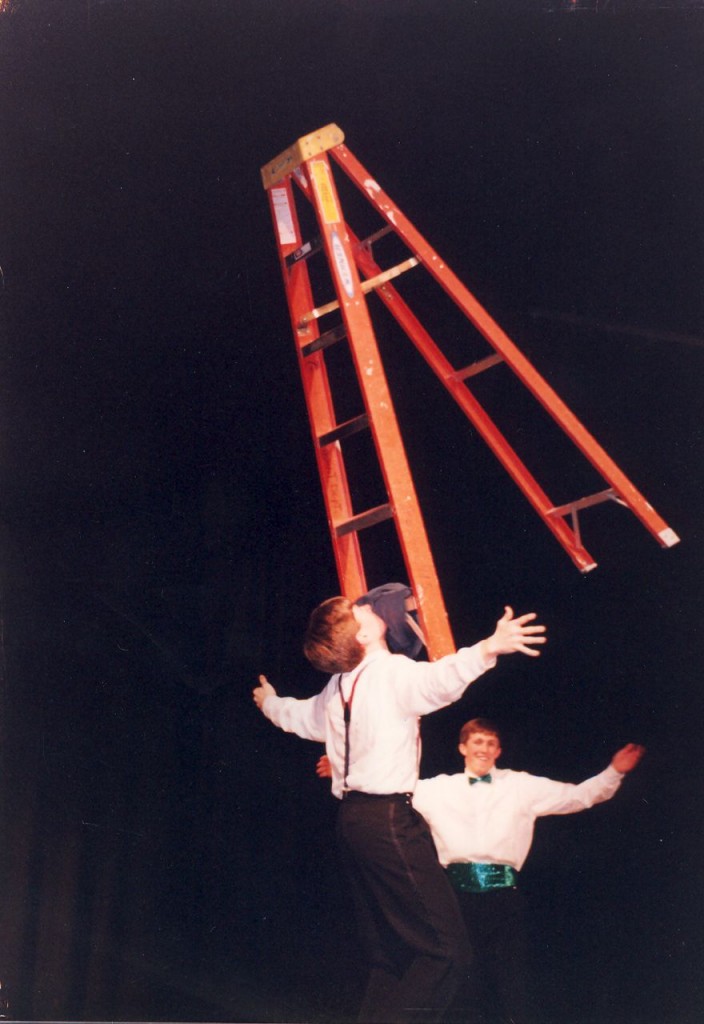 I love how pictures tell stories.
Let me tell you about this one.
The year was 1996.  I was a choir-boy sophomore at Godwin High School in Henrico, Virginia.  I had friends, but I wasn't in the "cool crowd."  I was a mostly quiet kid who liked music and juggling.
Then Mike Fitzpatrick (the guy in the background of the picture), the student body president, approached me.  Somehow, he had heard that I could juggle.  He told me that he and some buddies wanted to put together a little juggling act for the school Variety Show and wanted me to participate.
I obliged.
These guys were all "cool" guys who couldn't juggle that great, but they just wanted to have fun in front of their friends at the Variety Show.  For me, it was my chance for fame, my big break.  I juggled clubs, knives, rings, and finished by balancing a 6-foot ladder on my chin.  We brought the house down.
Our newly named group, The Giovanni Jugglers, proved to be a hit and we later performed together for a big county event for over 3,000 people.  If my memory serves me right, it was Mike, Adam Spanberger, Andy Katz, and myself.  The group performed at the Variety Show for many years to come, even after I graduated, because my brother, BJ, carried on the legacy (that was a lot of commas).
Despite having a great Variety Show appearance, I still never became that "cool" in school.  I continued to do nerdy things like music and juggling, because I loved doing those things.  I guess that's the path to cool: to do what you love, regardless of what others think.  And I have no regrets whatsoever.