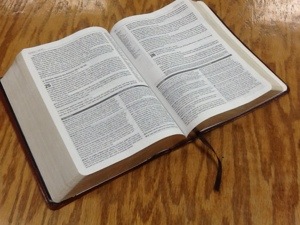 Summer camp is a great place to teach kids how to navigate through their Bibles, but this can be done at home, in church, or anywhere for that matter. Here are some things I've learned along the way about showing elementary and preteen kids how to move about their Bibles.
1. Tell the kids ahead of time to bring their Bible with them to whatever meeting you're having.
2. Be patient. Some kids know their way around and can win any "sword drill" while others have never held one before. Try not to let the latter group get lost in the dust.
3. When I speak, I like to put the Bible reference on the big screen and then have the kids look up the verse themselves. This gives them a chance to navigate through their Bibles on their own. They can also help one another find the passage.
4. I encourage them to use the table of contents. Then once they find the book, I tell them that the chapter is the "big number" and the verse is the "little number."
5. I also tell them to put their hand on their nose (or ear or head, for that matter) when they find the verse. This helps the kids who are already there sit still and quiet while we wait for everyone else to find their spot. This is especially important with larger groups.
6. There are some great "books of the Bible" songs out there. I know my friend Brent Weber made a song for the OT books and another song for the NT books. There are others out there as well. These are helpful for teaching kids the order of the books of the Bible.