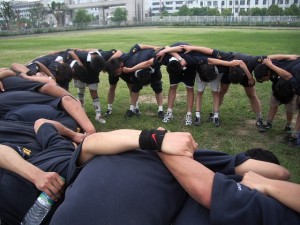 A great team working towards a common goal is like a freight train that cannot be stopped.  The synergy between the team members produces a result that is like multiplying everyone's gifts rather than just adding them together.
I have the privilege of working on a Children's Ministry team at my church, where each person brings a special set of gifts/skills to the table.  In the past, I have tried to do it all myself, from leading to recruiting to teaching to running the sound board to planning special events.  That works when you are starting from nothing, but as a ministry grows, teams are necessary.
The best thing about great teams is that everyone gets to use their talents.  When I tried to do it all, not only was I not able to effectively do everything, but I was also getting in the way of letting others use and develop their God-given gifts.  The team approach allows everyone to play the part for which God designed them.
One aspect of having a good team (and building a bigger and better one) is to have what Jack Welch (GE's CEO for 20 years) calls "crystal clear" expectations and job descriptions for each team player.
Here is a list of jobs that can be given to people who work in a Children's Ministry setting (there may be one or more paid positions, but most positions are volunteer jobs).  Also, some of these jobs are appropriate even for kids (like running sound, doing puppets, prayer, greeting, etc.).
1. Children's Pastor/Ministry Director – someone who calls the final shots and oversees the entire operation.
2. Resource Coordinator – someone who organizes, purchases, maintains, and distributes all the materials, curriculum and resources used in the Children's Ministry.
3. Special Events Planner – someone who organizes and plans special events (outreaches, block parties, holiday events, etc.).
4. Worship Leader and Worship Team Members
6. Prayer Director and team members
7. Creative Arts Director and team members
8. Audio/Visual Tech Director and team members
6. Hospitality/Greeter Director and team members
7. Sign Language Interpreter/Instructor
8. Special Needs Coordinator and team members
9. Sports League Outreach Director and team members
As you can see, the list goes on and on.  I have only scratched the surface of possible jobs.  What are some ones that you would add to this list?