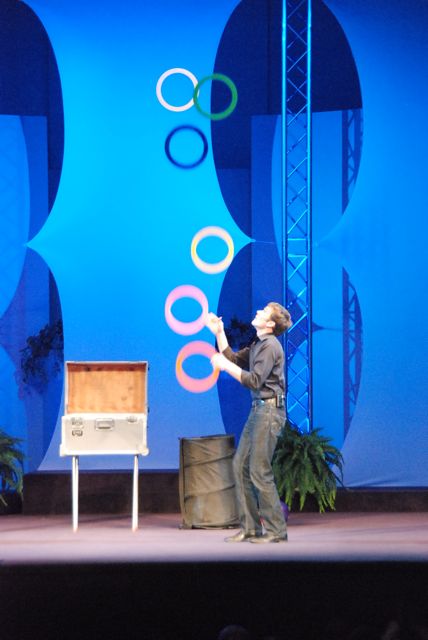 This list is not exhaustive.  I just want to list out some of the best places that I have found to get juggling equipment in North America.  If you want to add a vendor to this list, please leave a comment!
Dube Juggling Equipment – This NYC-based company has been a standard of quality juggling and performing equipment for decades.  They make everything from the most-used juggling knives out there to high-end derby hats for tricks.
JugglingStore.com – This online company provides great equipment from all over the world.  They have one of the best selections in North America – and really fast service (even from the West Coast to the East Coast).
Higgins Brothers – These guys provide great balls, rings, clubs, diabolos, and more at GREAT prices.  They are the wholesale providers for many retail circus equipment outlets, from Cirque du Solei to me.
Neon Husky – This company has lots of (you guessed it) neon, glow, LED, and other light-up equipment.  But they sell everything else too, so check them out.
Renegade Juggling – Well-known for their "renegade clubs", they have a wide selection of quality equipment.
Also, check out Todd Smith Juggling and Serious Juggling, both with active stores online.  I don't know a ton about those two, but please enlighten me if you have bought stuff from them.
Again, please leave a comment with more vendors to add to this list.