Check out this article written by a professor at my alma mater, Taylor University.  Her name is Amy Lepine Peterson and she offers a critique of Karen Kingsbury's children's books about princes and princesses.
Here is the link to the article: http://tinyurl.com/9nbmofh
Now that you've read it, here's my thought: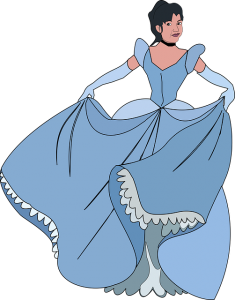 The character of a princess in many centuries-old legends and myths is that of a passive damsel-in-distress, lady-in-waiting, I'm-helpless-so-come-and-save-me woman.  Modern retellings (Tangled and Shrek, for example), try to push against this stereotype and show a strong, active, I-can-fight-with-the-big-boys woman.
It sounds to me like Amy Lepine Peterson is not suggesting that the traditional princess character is necessarily a dangerous model for our daughters.  I think she is simply saying that Karen Kingsbury takes it too far by offering a nameless, completely passive female.
This discussion gets to the heart of gender roles, egalitarianism and complementarianism.  What kind of women (real or fictional) to whom do we want our daughters aspiring?  The princess model does appear to come from a time in history when women had an extremely inferior status to men in society.  So taken to the extreme, I wouldn't want my daughter to learn to be a helpless lady-in-waiting either.
But what about redefining the princess role?  What about showing our daughters the real princesses of the Bible: Ruth, Esther, Mary, Deborah, Sarah, Priscilla, and many more?  My favorite are the daughters of Job: Jemimah, Keziah, and Karen-Happuch.  They were said to be the most beautiful women in all the land and they got an inheritance along with their brothers (and note that they are named at the end of Job and their brothers are not).  I guess that's why we named our strong princess daughter Keziah 🙂