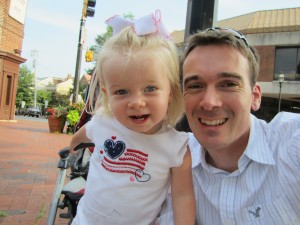 My daughter is about to turn two.  A friend of mine recently asked what ten things I would want to pass on to her.  That's a great question.  Here's what I was able to come up with…
1. To know that she is created by, loved by, and forgiven by God through Jesus Christ.
2. That she is a beautiful and strong princess with endless capabilities and capacities.
3. How to juggle.
4. That she has a family, both immediate and extended, that loves her to death.
5. How to ride a unicycle.
6. To pursue whatever sports, arts, disciplines, and careers that interest her (except juggling chainsaws).
7. To love others selflessly with the love of Jesus Christ (she already does that naturally, though).
8. How to work hard, play hard, earn money, spend money wisely, save money, and give money.
9. How to play the piano.
10. To always give 100% in everything in life, unless she's donating blood.