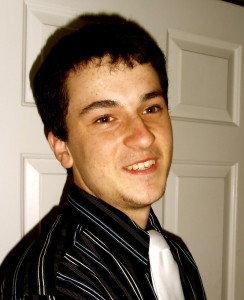 This summer, I am starting an apprenticeship program with Jesse Joyner Juggling.
I am bringing along two high-schooler young men with me to the summer camps at which I speak in June and July (all in Texas).  They will assist in my presentations as team jugglers and also help me teach workshops and run the juggling equipment sales table.
I'm super excited to have them along with me.  Both of them are real sharp young men with big hearts for Jesus (and they're great jugglers/performers too).
I'd like to introduce Jacob to you today and tomorrow I'll introduce Forrest.
Introducing…… Jacob Clarke
Jacob Clarke is a 17 year old student at Manchester High School.  He was introduced to the world of juggling at Bailey Bridge Middle School as a sixth grader by his English teacher, Mr. Iles.  He took an immediate interest in juggling, practicing for many hours a day, and soon a juggling club was started at the middle school.  He has attended many juggling conventions over the last few years, competing both in Atlanta, Georgia and in Las Vegas.  Jacob is very active at his church, Clover Hill Assembly of God, and  is a leader in his youth group as well as in his school.  He plays volleyball for Manchester, is in the Beta Club, Honor Society and also a member of the SMART board which is a program to mentor freshman as they enter into high school each year.  Jacob also is a leader for the Fellowship of Christian Athletes at Manchester, and enjoys many community service opportunities through both his school and his church.  He is very excited for the opportunity to join Jesse this summer in Texas.
If you're interested in being considered as an apprentice for future summer tours with Jesse, write in and tell us about yourself!
Here's Jacob in action!  Let him know what you think with some comments…